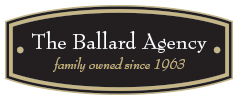 A lot has changed since the Ballard Agency was founded in 1963, but one thing remains the same: our commitment to our customers.  Our customers rely on us to help them navigate personal and professional insurance issues, and be their advocates before, during and after their policies are written. While we serve many large clients, our agency is family owned and operated, so we appreciate the challenges closely held businesses face every day.

We work with quality carriers like Chubb, Safeco, CNA, Hartford, Oregon Mutual, Hanover, Travelers and many others so we can tailor coverage to fit your needs.  From insuring personal lines portfolios, small locally owned businesses, venture backed startups to highly acclaimed national accounts, The Ballard Agency can accommodate clients of any size.

Owner Chris Ballard is actively involved in the company. He has been a licensed insurance agent for nearly two decades, and purchased the agency from his father in 2001.  A leader in the industry, he is a well-respected and highly knowledgeable insurance professional.

We look forward to serving you.

A SAFER CHOICE TO REDUCE YOUR RISK
A lawsuit or unplanned catastrophe can cripple even the best-managed organization. That's why it's so important to work with an expert who can identify all of your potential risks—and help you avoid unnecessary challenges and unforeseen disasters. Our expert agents will meet you onsite to help you determine exactly what you need.

CONSTRUCTION
It's no surprise that the construction industry faces a lot of risks. With countless investors and tight timelines, there's a lot at stake. We can help you determine your exposure to risks and implement a plan to reduce them, while designing a program to fund any losses sustained by your business in the process.

FOOD & BEVERAGE
When it comes to food processing, manufacturing or packaging, you need the expertise of an agent who specializes in the food and beverage industry. There's where the Ballard Agency comes in. We work with you to identify all your risks, and implement a comprehensive solution.
Areas of specific concern for this industry are Product and Liquor Liability, Business Interruption, Spoilage and Product Contamination, Product Recall, Mechanical Breakdown and Trade Name Restoration.
Are you a brewery or brewpub?
The Ballard Agency offers Risk Management and Insurance designed specifically for breweries and brewpubs. Visit BeerInsurance.com to learn more.

HOSPITALITY
From slippery floors to power outages, there are many risks associated with the restaurant industry. If someone falls and gets hurt in your establishment, you could be faced with a devastating lawsuit. Or if the power fails, it could cost you thousands in lost inventory.
We provide risk management to all types of restaurants including:
Chains Franchises Fine dining Family style Bar and grills Sports bars Taverns Brewpubs Nightclubs

WHOLESALE DISTRIBUTION
With preferred relationships with local and international risk management providers, we provide our clients in the wholesale and distribution industry with expert guidance and lower rates. Best of all, we represent the preferred wholesale insurance program endorsed by the National Association of Wholesalers.
Let us assist you with:
Accident kits featuring cameras
Driver selection and training
MVR management
Proper evaluation of property limits and cargo coverage for your deliveries

MANUFACTURING
There are numerous risks associated with the world of manufacturing. From factory injuries and product liability, which could include an international product recall to offsite utility loss, which could result in major financial damage, we'll work with you to identify your risks and develop a comprehensive plan to protect you and your business.
Call (425) 454-3510 to speak with an expert in your field

PROFESSIONAL SERVICES
Independent consultants can be faced with physical and economic threats due to errors during or after completion of your project or failure to perform work as promised in your contract. So if you provide a professional service to your customers, your business could be at risk…
A knowledgeable Ballard Agency representative can help you determine your risks and implement Errors and Omissions coverage to protect you in a lawsuit.
Call (425) 454-3510 to speak with an expert in your field.

REAL ESTATE OWNERS
Commercial property requires special coverage to protect your investment. That's why it's so important to work with someone who understands the unique needs of real estate owners. The experts at the Ballard Agency will work with you to reduce your risk, while helping you to control your costs.
In addition to standard risk management, we can also assist with:
D.I.C. \ Earthquake \ Flood, Terrorism coverage, Loss control, Inspection services.

PERSONAL INSURANCE
Protecting family-owned businesses is important to us. However, so is protecting the people behind these businesses. And as your net worth increases, your personal possessions, risks and obligations will grow as well. The experts at The Ballard Agency are ready to work with you to identify those risks and implement a comprehensive coverage strategy to keep you and your assets safe.
After all, you can't plan for the unexpected, but you can be prepared.
We work with affluent individuals in the following areas:
Homes Real Estate Investments Valuable Possessions Vehicles Classic Cars Boats and Yachts Motorcycles ATVs Snowmobiles Personal Umbrella/Excess Catastrophe
At the Ballard Agency, we know you have plenty of insurance options. Our clients choose us because we get things done and take away the need to worry about potential disasters by creating an insurance portfolio the right way the first time.
Over the last five decades and across two generations, we've helped thousands of organizations just like yours protect what's important by taking the time to understand your business to identify potential risks, and then implementing a comprehensive insurance program to protect you and your company.

CONTACT US
We would love to hear from you! Please fill out this form and we will get in touch with you shortly.